Details
Swarovski ATX / STX 25-60x85
The powerful all-rounder
This spotting scope can do it all. No matter whether it's taken on your travels or if you're spending all day in the reed beds, with the 85-mm spotting scope you are well equipped for every situation.
This is the best choice for anyone wanting to travel light and who also appreciates outstanding quality. Its light transmission, zoom range and close focus (3.6 m/11.8 ft) make it the perfect digiscoping tool.
Contrast right up to the edge

SWAROVISION Field Flattener

This type of image definition has never been achieved before in any other spotting scope, thanks to the field flattener lenses creating a virtually flat image. Even the finest structures are reproduced with razor-sharp clarity right up to the edge with no need for constant refocusing.

The result: every detail is instantly captured, producing a perfect image without any distortions.

Maximum contrast

including HD optics

A highly innovative optics design combined with fluoride- containing HD lenses minimise interfering colour fringing. This enables maximum colour fidelity and leads to a significant improvement in resolution and contrast.

The result: an even more lifelike, contrast-rich image.

A complete view

Large field of view and high zoom range

Nothing escapes you. You have your eyes trained on a flock of dunlins, but you catch something at the edge of the picture. A rarity? Thanks to their wide field of view, the ATX/STX spotting scopes provide you with a broader, more exciting platform for your viewing experience.

In spite of their high zoom range, the new generation of spotting scopes offers a large field of view. This allows you to achieve optimum magnification and detail recognition and also makes it extremely easy for you to search for and find objects, especially if they are in motion.

Eye relief plus

Large field of view even for spectacle wearers

SWAROVISION features a long eye relief and the removable twist-in eyecup is individually adjustable.

The result: even spectacle wearers can enjoy a large field of view, not to mention the inimitable edge sharpness. An additional eyecup has been specially developed for spectacle wearers to further increase viewing comfort.

Maximum colour fidelity

Optimised coatings

The enhanced lens and prism coatings (SWARODUR & SWAROTOP) give noticeably better colour reproduction combined with even greater transmission. SWAROCLEAN coatings on the outer lens surfaces create a non-stick effect, making it easier to clean.

The result: even more impressive observing experiences, even in low light.
Ingenious System
The new modular design offers previously unimagined flexibility and you are free to choose the perfect solution as the situation dictates. In collaboration with experts we have developed digiscoping adapters that open up a new realm of ways in which to observe and share the most beautiful moments.
Perfectly designed down to the smallest detail, you will be equipped for any situation.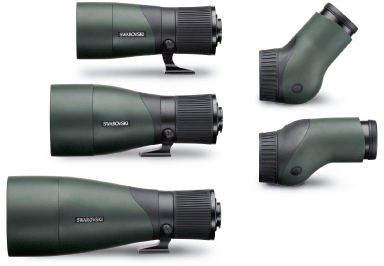 Just one hand

When every second counts. Imagine a plover flitting over the shore one minute and taking off into the sky the next. The ATX/STX spotting scopes ensure that you are prepared for moments like this. This is because the new position of the zoom ring, which is now directly behind the focusing ring, makes it easier to handle. It means that you can zoom and focus with one hand, while steering the spotting scopes direction with the other.

This completely new ergonomic design offers a crucial benefit for digiscopers in particular. They can now use the camera quickly, easily and accurately with one hand, while the other concentrates on zoom and focus.

Easy to transport

Not a gram too heavy for top optical performance. Size and weight is the name of the game for all those who like to travel or spend long days in the field. The ATX/STX series means that bulky spotting scopes that are difficult to pack and heavy to carry are a thing of the past.

The modular design enables you to store the objective and eyepiece modules separately and the smaller dimensions also mean that you can easily and safely store individual modules in your luggage.
Technical data

ATX/STX 25-60x65

ATX/STX 25-60x85

ATX/STX 25-70x95

Ø65mm

Ø85mm

Ø95mm

Magnification

25-60x
25-60x
30-70x

Effective objective lens diameter (mm)

65
85
95

Exit pupil diameter (mm)

2,6-1,1
3,4-1,4
3,2-1,4

Exit pupil diameter (mm)

20
20
20

Field of view (m/1000 m / ft/1000 yds)

124-68 ft
41-23 m
124-68 ft
41-23 m
104-57 ft
35-19 m

Field of view (degrees)

2,37-1,30
2,37-1,30
1,98-1,09

Field of view for spectacle wearers (degrees)




(mit Spezialaugenmuschel*)

2,37-1,1
(2,37-1,30)
2,37-1,3
(2,37-1,30)
1,98-1,0
(1,98-1,09)

Field of view, apparent (degrees)

57-71
57-71
57-71

Shortest focusing distance (m / ft)

6.91 ft1)
2,11 m1)
11.8 ft
3,6 m
15.7 ft
4,8 m

Diopter correction at ∞ (dpt)

> 5
> 5
> 5

Light transmission (%) Gesamtprodukt

86
86
86

Objective filter thread

M 67 x 0,75
M 87 x 0,75
M 97 x 0,75

Length approx. (mm/in)*

Angled view

13.3 in
339 mm
14.6 in
372 mm
16.8 in
426 mm

Straight view

14.4 in
367 mm
15.7 in
400 mm
17.9 in
454 mm

Weight (g / oz)

Angled view

55.9 oz
1585 g
67.4 oz
1910 g
75.8 oz
2150 g

Straight view

57.8 oz
1640 g
69.3 oz
1965 g
77.8 oz
2205 g

Focal length with TLS APO* (mm)

750-1800
750-1800
900-2100

Functional temperature

-13 °F to +131 °F (-25 °C / +55 °C)

Storage temperature

-22 °F to +158 °F (-30 °C / +70 °C)

Submersion tightness

4 m (13 ft) water depth (filled with nitrogen)
Additional Information
| | |
| --- | --- |
| Manufacturer Part Number | ATX25-60x65 |
| Condition | New |
Coronavirus (COVID-19)
Dear Carmarthen Camera Centre friends, family, & customers,
We are striving to keep running the shop as normal as possible under the circumstances.
However your health and safety are our top priorities and at the heart of every decision we make.
We believe it's critical to do our part to help reduce the transmission of COVID-19.
Here are some of the steps we are taking to protect everyone in this ever-evolving situation:
We are working to make sure that the products you love are available when you want them, delivered in the safest way possible.
Please note that we can no longer guarantee next day delivery.
We are diligently following guidance and best practices from the NHS and UK Foreign & Commonwealth Office, amongst others.
We have hand sanitisers available in-store and we are cleaning all the surfaces as we go.
Store staff are ensuring all surfaces are regularly cleaned with anti-bacterial wipes throughout the day.
Contacting The Carmarthen Camera Centre Customer Service Team
Our shop will remain CLOSED until we are advised otherwise, please contact us via telephone 01267222300 or online on social media.
We will update everyone as and when the situation evolves further.
We want to extend our best wishes to you all. Please keep safe and we hope you all stay healthy, safe and calm
You may also be interested in the following product(s)