Product Description
Replace the traditional trigger hose with Newell's wireless remote control.

This is perfect for lovers of astrophotography, macro photography, wildlife photography and self-portraits. The kit consists of a wireless remote control with intervalometer, a radio receiver and two sync cables (RS-60E3 RS-80N3) compatible with Canon cameras. The device features high quality workmanship, intuitive operation and an extremely attractive price in relation to its great capabilities.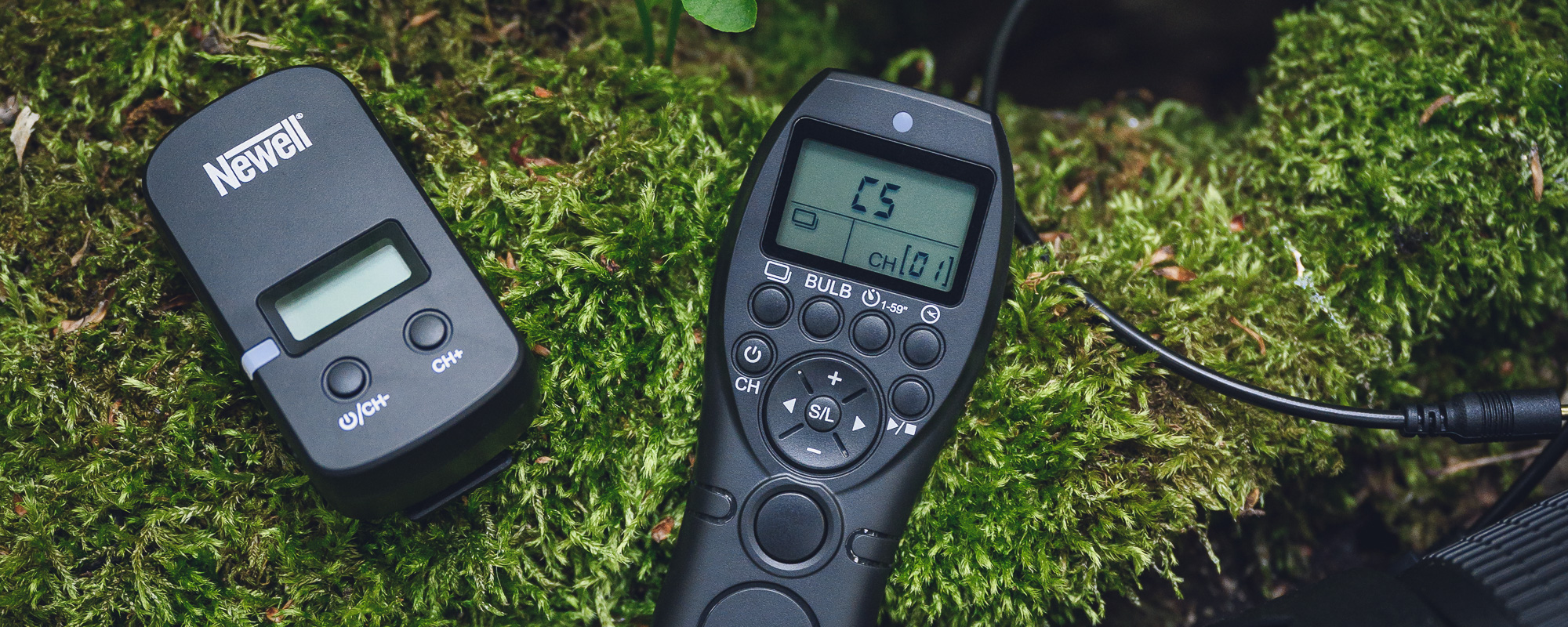 Main features of Newell MC-292 wireless remote control

Wireless communication between transmitter and receiver
Radio range up to 100m, 32 operating channels available
Double-level communication between transmitter and receiver
Two-level shutter release button (activates AF function when pressed halfway)
The ability to trigger the shutter release button (activates AF function when pressed halfway)
Shutter release with delay (self-timer) and

Bulb

(very long exposure times)
Support for continuous and single shot modes (CS / CL / CH)
Intervalometer (possibility of setting delay, exposure time, interval, number of frames, and the number of times the plan repeats)
Automatic saving of last selected parameters
Readable LCD screen with backlight
Receiver equipped with a cold shoe adapter, 1/4″
Tripod thread
Power supply 4x AAA (two batteries each for transmitter and receiver)
How to use
Even when you're shooting on a tripod, at long exposure times, just pressing the shutter button can cause camera shake and the photo will be shaky. To prevent this, you need to trigger the shutter remotely. Our wireless kit can be used in:
Photography of the night sky
Macrophotography
Hidden nature photography
Self-portrait
Group photos
HDR cameras
Time-lapse clips
Shooting
Programming time
Intervalometer allows you to precisely control the exposure time parameters and create complex time-lapse sequences. With the ability to delay the shutter release, choose the number of frames, intervals and specify the exposure time, recording a perfect timelapse becomes easier than ever.
Radio communication
The device uses 2.4 GHz radio waves with long range and stability (up to 100 meters) You are not limited by cable length and terrain obstacles (unlike using a standard trigger hose or infrared remote control). You can safely leave the camera in a forest clearing, and sit comfortably in your car and wait for a convenient moment to trigger the shutter.
Classic-by-cable
If for some reason you didn't want to use the benefits of radio waves, or simply forgot to pack the receiver in your backpack, there is always one more option! You can connect the remote control in the traditional way by using a cable directly to your camera. A traditional trigger hose with intervalometer in your hands.
Intuitive operation
The remote control has a large, backlit LCD screen and clearly labelled buttons. This makes it easy to program settings and makes shooting with it simple and enjoyable. Backlighting makes it easy to work at night, and the buttons can be easily operated even with gloves on.
Wide compatibility
The kit includes sync cables for Canon cameras. They replace the RS-60E3 and RS-80N3 trigger hoses. Our remote control and receiver are universal and nothing prevents you from connecting them to other cameras with appropriate cables.
Popular power source
Four AAA batteries (aka little sticks) are enough to power the transmitter and receiver for hours of use (two rechargeable batteries per device).
Convenient mounts
The receiver is equipped with a cold-shoe adapter and female 1/4″ tripod thread. It can be placed directly in the camera shoe or screwed to the tripod / mounting rail. You can hang the transmitter on a lanyard or wrist strap.